Del Mar High School (CA)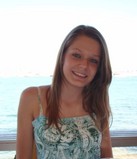 Jowita,
a senior, immigrated from Poland when she was 13 and has spent her childhood overcoming tremendous odds. Despite living in a house with an abusive father who was later incarcerated and eventually deported, Jowita managed to earn a 3.6 GPA, while tutoring English language learners and serving as Del Mar's Commissioner of Clubs.
Despite her tremendous perseverance and academic success, Jowita was not accepted to any of the universities she applied to because of an incomplete understanding of the application process. Having not asked for her official test scores to be sent to the schools, she found herself with a pile of rejection letters and the prospect of reapplying to local community colleges.
And then, Strive was able to intervene. Del Mar's counselor Richard Mendoza reached out to us to help, and due to our relationship with San Jose State University and thanks to the commitment of Jason Laker, the Vice President of Student Affairs, Julita was able to secure an acceptance in next fall's incoming class.
Jowita, who will be the first in her family to graduate from college, plans to major in Psychology and aspires to attend law school to focus on immigration law. Jowita has channeled her struggles into the motivation she needs to succeed, and wants to do her part to build a life of greater opportunity for herself and others. Like hundreds of other students around the country, she knows the first step is college, and Strive is honored to have helped her get there!